Thank you for using our Medication Access Tool.
We are always happy to hear from you, if you have feedback or need further assistance accessing a medication, please contact us.
In some provinces a special fund exists that may (in special circumstances) cover the cost for your preferred medication. Review the details below to see if your province offers such a program.
<< Button >> Option A: I have found a Provincial Special Access Program and will work with my physician to apply.
<< Button 5.2 >> Option B: My province does not offer a Provincial Special Access Program or I don't qualify.
A few more opportunities are available to help you access your preferred medication.
Option A: A call from you or your physician to the Patient Support Program (offered by the pharmaceutical company) for this medication may be help you get access to your preferred medication. Click here for contact info (3.13)
Option B: Consider learning more about a clinical trial. Click here for info (3.14)
View your province or territory from the list below to learn about more your options.
Each province or territory covers medication differently. The following table details which medications are covered and the qualifications for public coverage. Access to standard care drugs depends on where patients live.You'll see that some are considered "Special Access" or "Restricted Access" which means they usually require you to have tried ( and 'failed' ) other therapies first and require your doctor to send some forms in to the Ministry of Health or to the Health Authority for approval. In this case, your dermatologist may require access to your medical records.
Table: Funding status by province of medications to treat psoriasis and psoriatic arthritis
Abbreviations: SA = Special Authorization (aka "limited use" or "exceptional drug status")
NIHB = Non-Insured Health Benefits. Covers registered First Nations and Inuit. Used by NT and NU.
Psoriasis drugs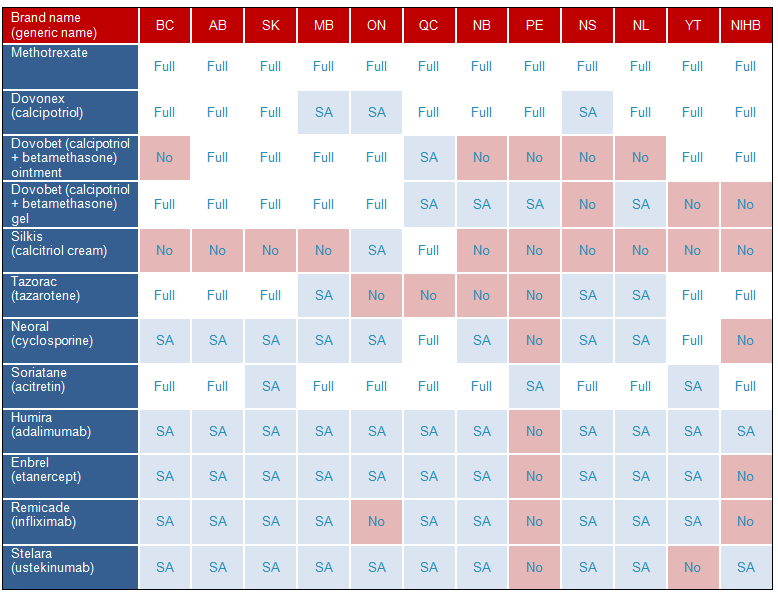 Psoriatic arthritis drugs

Special Authorization Chart per province
Each province and territory has a different hurdle that patients must reach in order to qualify to receive a biological medication. Depending on where an individual lives, he or she may or may not be eligible to receive newer treatments. Click below to view the details for each province.
Subcategories